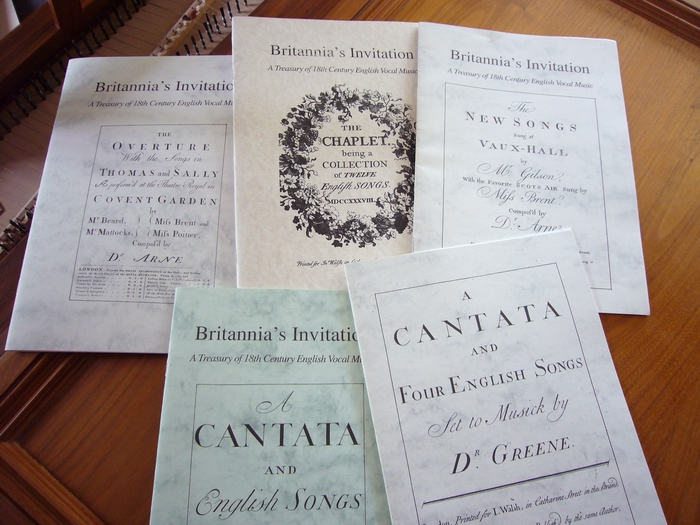 Britannia's Invitation
Oft has it been said that British music experienced a decline at the outset of the eighteenth century. It was precisely for the rejection of this notion that two private collectors in America set about gathering together a treasury of British instrumental and vocal music published in London, Edinburgh, and Dublin between the years of 1695 and 1795. The result is now a fruitful collaboration with Ruth and Jeremy Burbidge, proprietors of the Peacock Press in Yorkshire. The works selected from the collection form the basis of a new and unusual series of facsimile editions appropriately entitled Britannia's Invitation – A Treasury of British Vocal Music . For in this repertory there is, to quote a phrase from the quill of Colley Cibber (1671-1757), poet playwright, and contemporary of all the composers represented in the series, nothing in it to "coerce…passions".
While the protean Handel is represented in the series, so too are those esteemed English masters Thomas Augustine Arne and Maurice Greene, who wrote neat and finely crafted music for songs and cantatas – often, alas, to texts that are by today's standards of optimistic merit. Nonetheless this repertory unjustifiably remains largely unheard and neglected. To rescue this charming music from oblivion, it is ardently hoped by the publishers that those interested parties who purchase selections from Britannia's Invitation will find occasions to perform the airs, songs, and cantatas before audiences who will indeed greet the music anew with approbation.
John Burkhalter and Eugene Roan
N.B. The Britannia's Invitation series is also available now in the United States through Magnamusic Distributors, Sharon, Connecticut.